Uniquely designed Perfect Fit Harness
If you're looking for stylish, practical and durable dog harnesses, contact Nutley Dog Training & Behaviour in Bridgwater, Somerset.
Contact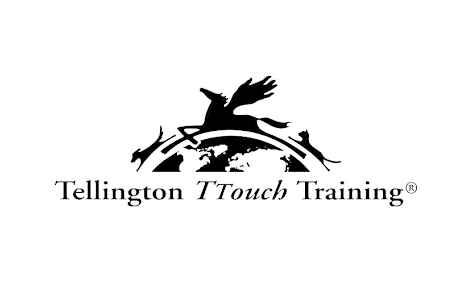 What is the Perfect Fit Harness?
A fleece harness
The top piece comes in a variety of colours and has 2 Fluorescent options ideal for night walking
You can clip around the dogs head rather than pass over their head. E.g. great for hand shy dogs
It's adjustable, so we can size the 3 different sections to have a personal fitting
Each piece can be replaced if your dog changes size
Has a D ring at the front to give connection for a double ended lead
Limits dog's ability to back out of it
Dog games report that it is safe for Tripawed dogs
Works well with Tellington TTouch and loose leash techniques
We provide a specialist fitting service for your dog
All dogs are extremely individual and that is the beauty of a fitting service. Your dog can visit Nutley and have a run around and then have a fitting, so we can not only see the harness in standing and walking but also the fit when your dog is running around in a safe and secure environment.
We stock a range of colours and sizes and if we don't have what you want, we can order it for you to save you the trouble.
Once you have contacted us, we will ask you a few questions about your breed type and lifestyle needs of your dog. We will then book you a fitting session to size your dog and fit the harness.
If you would like to book a fitting for Perfect Fit Harness, then please contact us (please link to the contact us form).
If you would prefer to order directly with Dog Games, manufacturer of the Perfect Fit Harness, then please contact them directly using the breed size guide to help you order your harness with them.
Perfect Fit Harness breed size guide
Below are the suggested sizes of the Perfect Fit Harness for different breeds. The best way to use the guide is to:
Measure your dog's girth (snugly, just behind their front legs) in centimeters – then look at the girth sizes listed below:
Choose the most suitable girth piece and then consult the chart below for your dog's breed. The chart will tell you the sizes of the top piece and front piece which usually goes with that particular size of girth piece. If your dog's girth is in between 2 sizes within a range, choose the larger girth as it will have more padding. E.g. in the 20mm range, a dog with a girth measurement of 53 cm's should be fitted with a medium girth, rather than a small girth.
Click on the link in the chart below for your dog and you will be taken to the relevant sized Perfect Fit Harness.
15mm, 20mm and 40mm ranges
Number webbing and clip range
1st letter size of the top piece
2nd letter size of the front Y piece
3rd letter size of the girth piece
Please select the link below to go to the sizing chart.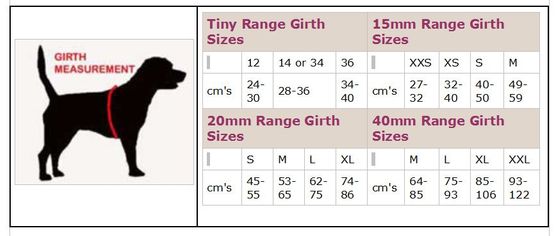 Our full Harness sizing list
BREED
PUPPY
SMALL
MEDIUM
LARGE
Affenpinscher
TY34
15-XS-XXS-XS
15-XS-XXS-XS
40-XL-M-L
40-XL-M-L
40-XL-L-XL
Airedale Terrier
20-S-XS-S
20-M-S-M
20-L-M-L
20-L-M-XL
Akita
40-XL-M-XL
40-XL-L-XL
40-XL-L-XL
40-XL-L-XL
40-XXL-L-XL
40-L-M-M
May also need
40S front if young
40-L-M-L
40-L-M-L
American Cocker Spaniel
15-XS-XXS-XS
15-XS-XS-S
15-XS-XS-M
20-M-S-S
American Hairless Terrier
TY34
15-XXS-XXS-XS
15-XXS-XXS-XS
15-XS-XS-S
40-XL-L-XL
40-XL-L-XL
40-XXL-L-XL
Australian Cattle Dog
20-S-XS-S
or 20-M-S-S
20-M-S-M
20-M-M-L
20-L-M-L
Australian Kelpie
20-S-XS-S
or 20-M-S-S
20-M-S-M
20-M-S-M
20-L-M-L
Australian Shepherd
20-S-XS-S
or 20-M-S-S
20-M-S-M
20-M-S-M
20-M-S-L
Australian Silky Terrier
TY34
15-XXS-XXS-XS
15-XS-XXS-XS
15-XS-XS-S
Australian Terrier
TY34
15-XS-XXS-XS
15-XS-XS-S
15-XS-XS-M
Barbet
20-L-M-L
20-L-M-L
or 40-L-M-M
May need 40S front
if too baggy
40-L-M-L
Basenji
20-S-S-S
20-S-S-M
20-S-S-M
20-S-S-M
20-S-S-M
20-M-S-M
Basset Fauvre de Bretagne
20-S-XS-S
or 20-M-S-S
20-M-S-M
20-M-S-M
20-M-S-M
Basset Griffon Vendeen (Grand)
20-S-XS-S
or 20-M-S-S
20-M-S-L
20-L-M-L
20-L-M-L
Basset Griffon Vendeen (Petit)
20-S-XS-S
or 20-M-S-S
20-M-S-M
20-M-S-M
20-M-S-M
Basset Hound
20-L-M-M
20-L-M-M

20-L-M-L
or 40-L-M-M
May need 40S front
if too baggy

20-M-S-M
20-L-M-L
20-L-M-L
Beagle
20-S-XS-S
or 20-M-S-S
20-M-S-M
20-M-S-M
20-M-S-L
Bearded Collie
20-M-S-M
20-L-M-L
20-L-M-L
20-L-M-XL
Bearded Collie x Terrier
15-XS-XS-S
20-S-S-S
20-S-S-M
20-M-S-M
Beauceron
20-L-M-L
40-L-M-L
40-L-M-L
Bedlington Terrier
15-XS-XS-XS
15-XS-XS-S
15-XS-XS-M
or 20-S-XS-M
20-S-S-M
Belgian Shepherd Dog
20-M-S-S
20-L-M-M
20-L-M-L
40-L-M-L
20-L-S-M
20-L-M-L
40-L-M-L
Bergamasco
20-L-M-L
40-L-M-L
40-L-M-L
20-L-M-L
40-L-M-L
40-L-M-L
Bichon Frisé
TY34
15-XXS-XXS-XS
15-XS-XS-S
15-XS-XS-M
Bloodhound
20-L-S-M
40-XL-L-XL
40-XXL-L-XL
Bolognese
TY34
15-XS-XXS-XS
15-XS-XS-S
15-XS-XS-M
Border Collie
20-M-S-S
May also need 20XS front
if young puppy
20-M-S-M
20-M-S-L
20-L-M-L
Border Terrier
20-M-S-S
May also need 20XS front
if young puppy
20-M-S-M
20-M-S-L
20-L-M-L
Borzoi
40-L-M-L
May also need 40S
front if young
40-L-M-XL
40-XL-L-XL
Boston Terrier
15-XS-XXS-XS
15-XS-XXS-XS
15-XS-XS-S
or 20-S-S-S
May need 20XS front
if too baggy
20-S-S-M
or 20-M-S-M
20-L-M-L
40-L-M-L
40-L-M-L
Boxer
20-L-M-M
20-L-M-L
20-L-M-L
or 40-L-M-M
May need 40S
front if too baggy
40-L-M-L
Briard
40-L-M-M
May also need 40S
front if young
40-L-M-L
40-L-M-L
Brittany
20-M-S-S
May also need 20XS
front if young puppy
20-M-S-M
20-M-S-M
20-M-M-L
Bulldog
20-L-M-M
40-L-M-M
May need 40S
front if too baggy
40-L-M-L
Bull Mastiff
40-L-M-L
May also need 40S
front if young
40-L-M-L
40-XL-M-XL
Bull Terrier
20-L-M-L
40-L-M-M
May need 40S
front if too baggy
40-L-M-L
20-S-S-SL
20-S-S-M
20-M-S-M

Bull Terrier x Bull Mastiff

40-L-M-L
May also need 40S
front if young
40-L-M-L
40-L-M-XL
Cairn Terrier
15-XS-XXS-XS
15-XS-XS-S
15-XS-XS-M or
20-S-S-S
May need 20XS
front if too baggy
20-S-S-M
Cavalier King Charles Spaniel
15-XXS-XXS-XXS
15-XXS-XXS-XS
15-XS-XS-S
15-XS-XS-M
40-L-M-L
May also need 40S
front if young
40-XL-L-L
40-XL-L-L
Chihuahua
TY12
TY14
TY36
Chihuahua Crosses
TY34
TY36
15-XXS-XXS-XS
Chinese Crested
TY34
15-XXS-XXS-XS
15-XXS-XXS-XS
15-XS-XS-S
Chow Chow
40-XL-M-L
40-XL-L-L
40-XL-L-L
Clumber Spaniel
20-M-S-M
20-L-M-L
20-L-M-L
20-L-M-XL
15-XS-XS-S
or 15-XS-XS-M
20-S-S-S
20-M-S-M
20-S-S-S
20-S-S-M
20-M-S-M
Cockerpoo
15-XS-XS-S or
15-XS-XS-M
20-S-S-S
20-S-S-M
20-M-S-M
20-L-M-L
20-L-M-XL
20-L-S-L
20-L-M-L
20-L-M-XL
Collie (Smooth)
20-S-XS-M or
20-M-S-M
20-L-S-L
20-L-M-L
20-L-M-XL
Corgi
20-S-S-M
20-S-S-M
20-M-S-M
Corgi x Collie
20-S-M-M
20-S-M-M
20-S-M-L
15-XS-XXS-XS
15-XS-XS-S
15-XS-XS-M
40-XL-M-L
May also need 40S
front if young
40-XL-M-L
40-XL-M-L
Dachshund (Miniature)
15-XXS-XXS-XXS
15-XXS-XXS-XXS
15-XXS-XXS-XS
15-XXS-XS-S
Dachshund (Standard)
15-XS-XS-XS
15-XS-XS-S
15-XS-XS-M or
20-S-S-S
May need 20XS
front if too baggy
20-S-S-S
20-M-S-M
20-M-S-M
20-M-S-M
Dalmatian
20-L-M-L
20-L-M-L
20-L-M-XL
Deerhound

40-XL-M-XL
May also need 40S
front if young

40-XL-L-XL
Dobermann Pinscher
20-L-M-L
20-L-M-L
20-L-M-XL or
40-L-M-L
May need 40S
front if too baggy
40-L-M-XL
40-L-M-L
May also need 40S
front if young
40-L-M-L
40-L-M-XL
Dogue de Bordeaux
40-L-M-M or
40-L-M-L
May also need 40S
front if young
40-XL-L-XL
40-XL-L-XL
40-XL-L-XL
40-XXL-XL-XXL
40-XXL-XL-XXL
English Setter
20-L-M-L
20-L-M-L

40-L-M-Lbr>May need 40S
front if too baggy

English Springer Spaniel
20-M-S-S
May also need 20XS
front if young puppy
20-M-S-M
20-M-S-M
20-M-S-L
15-XS-XS-S
15-XS-XS-S
15-XS-XS-M
Estrela
40-L-M-L
40-XL-L-XL
40-XL-L-XL
Eurasier
20-M-S-M
40-L-M-L
May also need 40S
front if young
40-L-M-L
40-L-M-L
Field Spaniel
15-XS-XS-S
15-XS-XS-M
or 20-M-S-S
May need 20XS
front if too baggy
20-M-S-M
20-M-S-M
20-M-S-M
20-M-S-L
Finnish Spitz
20-M-S-M
20-M-S-M
20-M-S-M
20-L-M-L
40-L-M-L
May need 40S
front if too baggy
40-L-M-L
Foxhound
40-L-M-L
May also need 40S
front if young
40-L-M-L
40-L-L-XL
Fox Terrier
15-XS-XXS-XS
15-XS-XS-S
15-XS-XS-M
20-S-S-S
Fox Terrier (wirehaired)
15-XS-XXS-XS
15-XS-XS-M
or 20-S-S-S
May need 20XS
front if too baggy
20-M-S-M
20-M-S-M
20-S-S-M
May need 20XS
front if too baggy
20-S-S-M
20-S-S-M
German Pinscher
20-S-S-S
May also need 20XS
front if young puppy
20-M-S-M
20-M-S-L
20-M-M-L

German Shorthaired Pointer

20-M-M-L
20-L-M-L
20-L-M-L
40-L-M-L
40-L-M-L
40-L-M-XL
40-L-M-L
May also need 40S
front if young
40-L-M-L
40-L-M-XL
40-L-M-L
40-L-L-L
German Spitz
20-S-S-M
20-M-S-M
20-M-S-M
Goldendoodle
20-S-S-M
20-L-M-L
20-L-M-L or
40-L-M-M
May need 40S
front if too baggy
20-L-M-XL or
40-L-M-L
20-L-M-L or
40-L-M-L
May need 40S
front if too baggy
20-L-M-XL or
40-L-M-L
40-L-M-XL
Gordon Setter
20-L-M-L
20-L-M-L
20-L-M-XL
40-L-M-M
May need 40S
front if too baggy
40-L-M-L
40-XL-M-L
Great Dane
40-XL-L-L
40-XXL-L-XL
40-XXL-L-XXL
Greyhound
20-L-S-L
20-L-M-XL
or 40-L-M-L
May need 40S
front if too baggy
20-L-M-XL or
40-L-M-XL
15-XS-XS-S
15-XS-XS-S
15-XS-XS-M
20-L-M-L
20-L-M-XL
20-L-M-XL
Hovawart
40-L-M-L
20-M-S-L
20-L-M-L
20-L-M-L
20-L-M-L
20-L-M-L
20-L-M-XL
Ibizan Hound
20-L-S-L
20-L-S-L
or 40-L-M-L
May need 40S
front if too baggy
20-L-M-XL
or 40-L-M-L
20-L-M-L
20-L-M-L
20-L-M-XL
20-L-M-L
20-L-M-L
20-L-M-L
Irish Terrier
20-S-S-S
May also need 20XS
front if young puppy
20-M-S-M
20-M-S-M
20-M-S-L
20-L-M-L
20-L-M-XL

40-L-M-L
May need 40S
front if too baggy

40-XL-L-XXL
40-XL-L-XXL
Italian Greyhound
15-XXS-XXS-XXS
15-XXS-XXS-XS
15-XXS-XS-S
15-XXS-XS-M
40-L-M-M
May need 40S
front if too baggy
40-L-M-L
40-L-M-L
Jack Russell Terrier
15-XS-XXS-XS
15-XS-XXS-S
15-XS-XS-S
or 20-S-S-S
May need 20XS
front if too baggy
Japanese Chin
TY34
15-XXS-XXS-XS
15-XXS-XXS-S
20-M-S-M
20-M-S-M
20-M-S-M
20-S-S-M
20-M-S-M
20-M-S-M
Keeshund
20-M-S-L
20-M-S-L
20-L-M-L
20-M-S-M
20-M-S-M
20-M-S-L
King Charles Spaniel
15-XXS-XXS-XXS
15-XXS-XXS-XS
15-XS-XS-S
15-XS-XS-M
Komondor
40-L-M-M
May need 40S
front if too baggy
40-L-M-L
40-L-M-L
Kooikerhondje
20-S-S-S
May also need 20XS
front if young puppy
20-S-S-M
20-M-S-M
20-M-S-L
Labrador
20-M-S-M
20-L-M-L
20-L-M-XL or
40-L-M-L
May need 40S
front if too baggy
40-XL-L-XL
Labradoodle
20-S-S-M
May also need 20XS
front if young puppy
20-L-S-L
20-L-M-L

40-L-M-L
May need 40S
front if too baggy

20-L-M-L
40-L-M-M
May need 40S
front if too baggy
40-L-M-L
Lakeland Terrier
15-XS-XXS-XS
15-XS-XXS-XS
15-XS-XXS-S

15-XS-XS-M or
20-S-S-S
May need 20XS
front if too baggy

15-XS-XS-M
20-S-S-M
20-M-S-M
Leonberger
40-XL-L-XL
40-XL-L-XL
40-XXL-L-XL
Lhasa Apso
15-XS-XXS-XS
15-XS-XXS-XS
15-XS-XS-S or
20-S-S-S
May need 20XS
front if too baggy
20-S-S-M
or 20-M-S-M
Lowchen
15-XS-XXS-XS
15-XS-XXS-XS
15-XS-XS-S or
20-S-S-S
May need 20XS
front if too baggy
20-S-S-M
or 20-M-S-M
15-XS-XS-M
or 20-S-S-M
May need 20XS
front if too baggy
20-M-S-M
20-M-S-L
20-L-S-L
20-L-S-XL

40-L-M-L
May need 40S
front if too baggy

Maltese
20-L-S-L
20-L-S-XL

40-L-M-L
May need 40S
front if too baggy

Manchester Terrier
15-XXS-XS-S
20-S-S-M
20-S-S-M
20-S-S-M
40-L-M-L
40-XL-L-XL
40-XL-L-XL
Mastiff
40-L-M-L
40-L-M-L
40-L-M-XL
15-XS-XS-S
15-XS-XS-M
15-XS-XS-M
20-L-M-L
20-L-M-L
20-L-M-XL
40-XXL-XL-XXL
40-XXL-XL-XXL
Newfoundland
40-L-M-M
40-XXL-L-XXL
40-XXL-XL-XXL

Newfoundland x Rottweiler

40-XXL-L-XL
Norfolk Terrier
15-XS-XXS-XS
15-XS-XXS-S
15-XS-XS-S
or 20-S-S-S
May need 20XS
front if too baggy
20-S-S-S
Northern Inuit
40-L-M-L
May need 40S
front if too baggy
40-L-M-L
40-L-M-L
20-M-S-M
20-M-S-M
20-M-S-L
Norwegian Elkhound
20-M-S-M
20-L-M-L
20-L-M-L
20-L-M-XL
Norwich Terrier
15-XS-XXS-XS
15-XS-XXS-S
15-XS-XS-S or
20-S-S-S
May need 20XS
front if too baggy
20-S-S-S
Nova Scotia Duck Tolling Retriever
20-S-S-S
May also need 20XS
front if young puppy
20-M-S-M
20-M-S-M
20-M-S-L
40-L-M-L
May need 40S
front if too baggy
40-L-M-L
40-XL-L-XL
Otterhound
40-XL-L-XXL
40-XL-L-XXL
Papillon
TY34
TY34
15-XS-XS-S
15-XS-XS-S
Patterdale Terrier
15-XS-XXS-XS
15-XS-XS-S
15-XS-XS-M or
20-S-S-S
May need 20XS
front if too baggy
20-S-S-S
Parson Russell Terrier
15-XS-XXS-XS
15-XS-XS-S
15-XS-XS-M
or 20-S-S-S
May need 20XS
front if too baggy
20-S-S-S
Pekingese
15-XS-XS-S
15-XS-XS-M or
20-S-S-M
May need 20XS
front if too baggy
20-S-S-M
20-M-S-M
20-M-S-M
20-L-M-L
20-L-M-L
20-L-S-L
20-L-S-L
20-L-M-L
20-M-S-L
20-M-M-L
20-M-M-L
Pomeranian
TY34
TY36
15-XS-XXS-S
15-XS-XS-S
Poodle (Toy)
15-XXS-XXS-XS
15-XS-XXS-XS
15-XS-XS-S
15-XS-XS-M
15-XS-XS-S
20-S-S-S
20-S-S-M
40-L-M-M
May need 40S
front if too baggy
40-L-M-M
40-L-M-M

Portuguese Podengo(Medio)

20-M-S-L
20-M-M-L
20-L-M-L
20-L-M-L or
40-L-M-M
May need 40S
front if too baggy
40-L-M-L
40-L-M-L
Pug
20-S-S-S
May also need 20XS
front if young puppy
20-S-S-S
20-S-S-M
20-M-S-M
40-XXL-L-XL
40-XXL-L-XL
20-S-S-S
20-S-S-M
20-M-S-M
40-L-M-L
May need 40S
front if too baggy
40-L-M-L
40-XL-L-XL
Rottweiler
40-L-M-M
May need 40S
front if too baggy
40-L-M-L
or 40-XL-M-L
40-XL-M-L
20-M-M-L
20-M-M-XL
20-M-M-XL
40-XL-L-L
40-XL-L-XL
40-XL-L-XL
St Bernard
40-L-M-M
40-XL-XL-XL
40-XXL-XL-XXL
Saluki
20-M-M-L
40-L-M-M
May need 40S
front if too baggy
40-L-M-L
40-L-M-L
Samoyed
40-L-M-M
40-L-M-L
40-L-M-L
Schipperke
15-XS-XXS-S
15-XS-XS-M
or 20-S-S-S
May need 20XS
front if too baggy
20-S-S-M
20-S-S-M
Schnauzer (Miniature)
15-XS-XXS-XS
15-XS-XXS-S
or 15-XS-XS-M
or 20-S-S-S
May need 20XS
front if too baggy
20-S-S-M
20-S-S-M
Schnauzer (Standard)
20-M-S-M
May also need 20XS
front if young puppy
20-L-S-L
20-L-S-L
20-L-M-L
Schnauzer (Giant)
40-L-M-M
May need 40S
front if too baggy
40-L-M-L
40-XL-L-L
40-XL-L-XL
20-S-S-S
20-M-S-S
20-M-S-M
20-M-S-S
20-M-S-M
20-M-S-M
Shar Pei
20-M-S-M
20-M-M-M
20-L-M-L
Shetland Sheepdog
15-XXS-XXS-XXS
15-XS-XXS-XS
15-XS-XS-S

15-XS-XS-M
or 20-S-S-S
May need 20XS
front if too baggy

Shihpoo
15-XS-XXS-XS
15-XS-XS-S
15-XS-XS-M or 20-S-S-S
May need 20XS
front if too baggy
20-S-S-S
Shih Tzu
15-XS-XXS-XS
15-XS-XXS-XS
15-XS-XS-S
or 20-S-S-S
May need 20XS
front if too baggy
20-S-S-M
or 20-M-S-M
Siberian Husky
20-M-S-M
20-L-M-XL
20-L-M-XL
or 40-L-M-XL
May need 40S
front if too baggy
40-L-M-XL
40-L-M-L
May need 40S
front if too baggy
40-L-M-L
40-L-M-L
Soft-coated Wheaten Terrier
20-M-S-S
May also need 20XS
front if young puppy
20-L-S-M
20-L-S-M
20-L-M-L
Spanish Water Dog
20-M-S-S
May also need 20XS
front if young puppy
20-M-S-M
20-M-S-M
20-M-S-L
Staffordshire Bull Terrier
20-M-S-S
20-M-M-M
or 20-L-M-M
20-L-M-L or
40-L-M-M
May need 40S
front if too baggy
40-L-M-M
Swedish Lapphund
20-S-S-S
May also need 20XS
front if young puppy
20-S-S-M
20-S-S-M
20-M-S-M
Swedish Vallhund
20-S-S-S
20-S-S-M
20-S-S-M
20-M-S-M
Terrier crossbreeds
TY34 or
15-XS-XXS-XS
15-XS-XS-S
15-XS-XS-M
or 20-S-S-S
May need 20XS
front if too baggy
20-M-S-M
40-L-M-L
40-XL-L-XL
40-XL-L-XL
15-XS-XXS-XS
15-XS-XS-S
15-XS-XS-M
Tibetan Terrier
15-XS-XS-S
20-S-S-S
20-S-S-S
20-S-S-S
Trailhound
40-L-M-M
May need 40S
front if too baggy
40-L-M-L
40-L-M-XL
40-L-L-XL
Weimaraner
20-L-M-XL
40-L-M-L
May need 40S
front if too baggy
40-L-M-XL
or 40-L-L-XL
Welsh Springer Spaniel
20-M-S-S
May also need 20XS
front if young puppy
20-M-S-S
20-M-S-M
20-M-S-L
Welsh Terrier
20-S-S-S
20-M-S-M
20-M-S-M
West Highland Terrier
15-XS-XXS-XS
15-XS-XS-S
15-XS-XS-M
or 20-S-S-S
May need 20XS
front if too baggy
20-S-S-M
Whippet
15-XXS-XS-S
15-XS-XS-S
15-XS-XS-M
or 20-S-S-S
May need 20XS
front if too baggy
20-S-S-M
Yorkshire Terrier
TY34
TY36
15-XS-XXS-XS
15-XS-XS-S